It's no secret fruits provide many essential nutrients in your diet. Not to mention, they taste amazing and offer a healthy alternative to processed sweets. Let's take a look at one of our favorite fruits: Blueberries.
Did You Know?
Blueberries are among the most antioxidant-rich foods out there. Research shows blueberries contain many powerful health-promoting properties, including high levels of antioxidants. In fact, a study conducted by the US Department of Agriculture determined that blueberries have the highest total antioxidant capacity per serving when compared to 24 varieties of fresh fruits, 23 vegetables, 16 herbs and spices, 10 different nuts, and 4 dried fruits.1
Blueberries are also an excellent source of flavonoids, which have a wide range of benefits, including properties that enable a healthy inflammatory response and support a healthy mood. This tasty fruit has also been shown to support cognitive function.2
It Gets Wilder
Blueberries are an impressive fruit, but what makes wild blueberries stand out? Wild blueberries have even higher nutritional values than common blueberries. These berries thrive in harsh northern environments and produce powerful anthocyanins to protect them from the damage caused by exposure to the sun. As a result, studies show wild blueberries have up to 10 times higher antioxidant levels than the common blueberry.
Bonus! Blueberries are available year-round and are easy to incorporate into a healthy eating regimen. Try putting them in cereal, on top of plain yogurt, in oatmeal, in your FIT20® or Kyäni Origin™ shake, eating them plain, or enjoying them in your morning Kyäni Sunrise.
Rise and Shine
Kyäni Sunrise is at the top of the superfood chain because it is formulated with the antioxidant power of wild blueberries. In addition, Kyäni Sunrise contains a wide variety of other superfoods, including extracts from acai, ginseng, and kale, and is a good source of vitamin B12 in the more bioavailable form, methylcobalamin.
Kyäni Sunrise's full spectrum of antioxidants from superfoods is combined with more than 60 trace minerals that act as essential enzymatic cofactors, which are necessary for protein enzymes to function properly. The resulting water-soluble formula is perfect to enjoy in the morning to get your day started right.
Kyäni Sunrise also contains no artificial colors or preservatives, and only six grams of naturally occurring sugar. Talk about the perfect morning pick-me-up!
Kyäni Sunrise is delicious by itself, and you can also spice it up by adding it to some of your favorite breakfast recipes! Check out one of our favorites below.
Superfood Protein Power Oatmeal Recipe
Nutrition per serving:
20g protein
30g carbs (with FIT20); 38g carbs (with Origin)
11g fats
200 calories
Ingredients:
¾ ounce rolled oats, dry and unsweetened
1 packet Kyäni FIT20 or 2 scoops of Kyäni Origin Vanilla
1 tablespoon natural almond butter or natural peanut butter
1 packet of Kyäni Sunrise
Preparation:
Stir oats in a bowl with ¾ cup of boiling water. Let stand for about 5 minutes.
Slowly stir in FIT20 or Origin powder until the mixture is smooth and creamy.
Add natural almond butter or natural peanut butter. Mix well.
Drizzle Sunrise on top. Enjoy!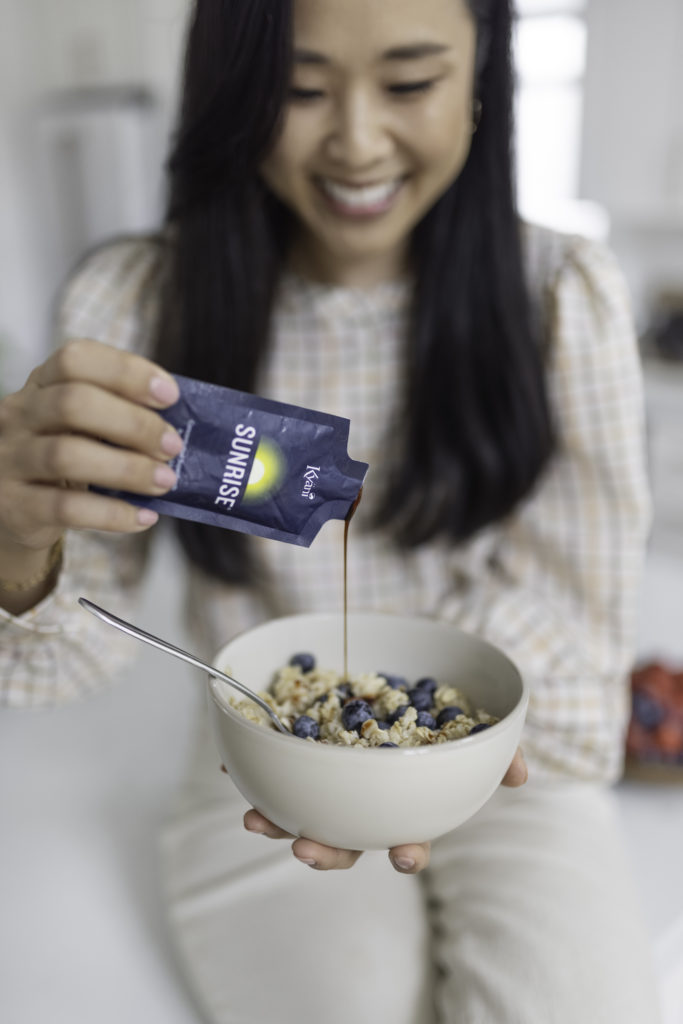 References
1. https://faculty.missouri.edu/~glaserr/3700s14/Antioxidant_WuJAgFoodChem5240262004.pdf
2. https://www.ars.usda.gov/plains-area/gfnd/gfhnrc/docs/news-2014/blueberries-and-health/
DISCLAIMER: This information relies upon scientific research on certain ingredients in Kyäni products. None of the studies examined Kyäni products specifically, and there is not necessarily a relationship between the results of these studies and any Kyäni product. Neither the studies nor the statements and products referenced here have been evaluated by the United States Food and Drug Administration. Kyäni products are not intended to, and do not, diagnose, treat, cure, prevent, or mitigate any disease or condition.